B210 Letterbox
B210 LETTERBOX
The Postbox B210 is a compact and stylish looking post box; how those first impressions last!
Features:
Weatherproof - prevents wet mail

Has a unique slide to prevent your letters from getting damaged

Safety lock with 2 coded keys

Suitable for wall mounting

Suitable for post mounting

5 year guarantee

Height - 455mm, Width - 405mm, Depth - 187mm
Why do I need a letterbox and not a letterplate?
Police and Insurance companies are committed to preventing crime, theft and fraud, and when it comes to letter plates in peoples front doors (as 80% of burglaries are through your front door) their main concerns are:
Lock Manipulation: the art of opening your front door from within using a wire and letting themselves in your front door.
Car Theft: we all do it, walk in and place our keys on a table, shelf or key rack in reach of our front door.
ID Theft: we go to work, the postman delivers our mail on to our welcome mat and the thieves help themselves during the 8 hours we are out.
Arson Attacks: unfortunately, and we hear about it in the media too often, cowards like to pour accelerants through letter plates followed by a match, enough said!
Thermal Co-efficiency: with the introduction of EPC ratings by the EU. Having a letterbox instead of a hole in your front door can help your rating.
Noise Reduction: continued advances in reducing noise pollution are often negated when a hole is then cut into your front door.
Product Code: 13228
Product ID: 9
from on
Jul 2nd 2015
Verified Purchase
18-05-15: Your post box was what we were looking for.
from on
Jul 2nd 2015
Verified Purchase
26-05-15: Bought this box last week and fixed it on our railings and our neighbour liked it so much, she asked us to get one for her.
Very fast delivery - within 2 days.
from on
Jul 2nd 2015
Verified Purchase
20-01-15: Good range of products on offer.
from on
Apr 9th 2013
Verified Purchase
08-04-13: Products looked good quality & prices were reasonable. Website also provided detailed product information so made choosing easier.
from on
Jan 28th 2013
Verified Purchase
28-01-13: Product Choice
from on
Jan 28th 2013
Verified Purchase
27-01-13: You had the traditional postbox we wanted in the right colour
from on
Jan 3rd 2013
Verified Purchase
30-12-12: Had the colour we were looking for
Want to leave a review?

Login Register FREE!
B210 Letterbox
Coming Soon! 7 reviews
FREE UK Delivery
15-20 days (unless otherwise advised)
Secure Checkout
Secure Shopping Guarantee
Associated Products:
Letterbox stand - rust free
£63.00
Newspaper holder
£64.90 In Stock
People who bought this, also purchased these:
Letterbox stand - rust free
£63.00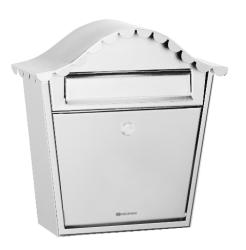 SIROCCO Letterbox
£54.00 In Stock
Newspaper holder
£64.90 In Stock