It was almost a year ago that I reported the Royal Mail trial of their parcel boxes. I said in my blog:
"The trial of 30 Royal Mail parcel boxes is taking place in Northampton (17 parcel boxes) and Leicester (13 parcel boxes) until 5th November 2018 and is the biggest change for post boxes in over 160 years. The boxes are aimed to help small business and marketplace sellers who can post pre-paid parcels in the same way you post letters, rather than having to queue up at the Post Office. Before you post them, you will need to make sure your parcel has the correct stamp or franked mail label on it which you can buy and print off online."
The trial was so successful that Royal Mail are installing 1,400 permanent parcel postboxes over a six-month period, starting from August 2019. The postboxes will open in more than 30 towns and cities including London, Birmingham, Manchester, Leeds and Sheffield as well as Chester, Warrington, Southampton, Norwich, Peterborough and Truro. The change will enable individuals and small businesses to post parcels in the same way as they would post a letter. Postage needs to be paid for in advance using Royal Mail's online service. It will also be possible for consumers to post some bar-coded returns parcels without queuing up in a post office.
Mark Street, head of campaigns at Royal Mail, says:
"The wide scale introduction of parcel postboxes is one of the many ways we at Royal Mail are looking to make the lives of our customers easier...The parcel postboxes trial last year was a success, and we hope that the wider roll-out gives added flexibility to online sellers who might be running a business in their spare time and not keeping regular office hours."
You will be able to drop off your returns to retailers, such as Debenhams or ASOS, if they have provided you with a pre-paid label. Marketplace sellers on sites such as eBay and Etsy, will be able to post pre-paid parcels through specially adapted parcel post boxes. The public can also buy postage online from the Royal Mail for parcels, with Click & Drop.
The post boxes have a larger opening and secure design, making it easy for you to post your parcels safely and conveniently, especially if you post a lot or sell items regularly online. The introduction of the parcel postboxes is the first major change to the UK's postbox system in 160 years.
---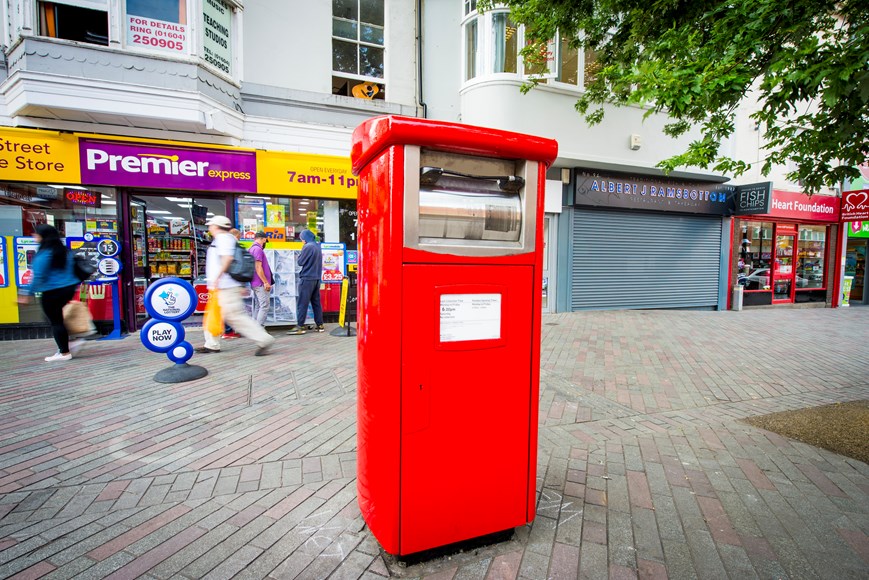 ---
The Royal Mail are offering solutions at the start of the delivery chain, but what happens at the receiving end?
Are you always at home to receive a parcel or are you usually at work when a delivery is made? You may then have to collect from a delivery depot that may not be so local.
The solution can be found at PostBoxShop!
We supply a vast number of postboxes, letterboxes and mailboxes to suit all our customer's needs.
Shopping online is becoming increasingly popular, with one common restraint, who will be at home all day to wait for the parcel box deliveries, as they are generally too big to fit through standard letter plates. The solution is, of course, a secure and large-capacity parcel box.
Our Parcel Dropbox is perfect, simply place a parcel onto the internal shelf and close the lid, which will drop it down inside the box, a section only accessible with your key. It is unique as it will accept multiple deliveries, and it can be screwed to a wall or concreted into the ground with a base plate.
Our Parcel Box Cube is a new design of both parcel and mailbox which can receive small volumes of mail and parcels. Ideal for home It has a solid powerful retractable plate Inside the top of the box which prevents parcels and mail being fished out of the box involuntarily. The Parcel Pod comes complete with a security locking mechanism which enhances the security of this box. Multiple deliveries are possible when other models only allow for one delivery at a time.
Royal Mail parcel boxes are a great innovation, but you will also need a domestic parcel box purchased from PostBoxShop to receive online deliveries.
If you have any questions about our parcel box range, please contact our friendly team today. Call us on 01233 229297 (Mon-Fri, 9am – 5pm).
GIVE US YOUR STAMP OF APPROVAL
- PostBoxShop -
SUPPLIER OF QUALITY POSTBOXES ONLINE