TNT Posties trial delivery by new electric unicycles.

The UK's second-biggest delivery group TNT Post, has re-named itself temporarily as "Whistl", whilst experimenting with a device to speed up the postal service.

 TNT have been successfully delivering since 2012, and aim to speed up delivery throughout Britain's busiest cities, via AirWheel delivery.
After training 100 Posties in London, Manchester, Birmingham and Liverpool, in the use of the AirWheel, which has a top speed of 12mph and a 20-mile range and re-charges when travelling downhill, the experiment begun...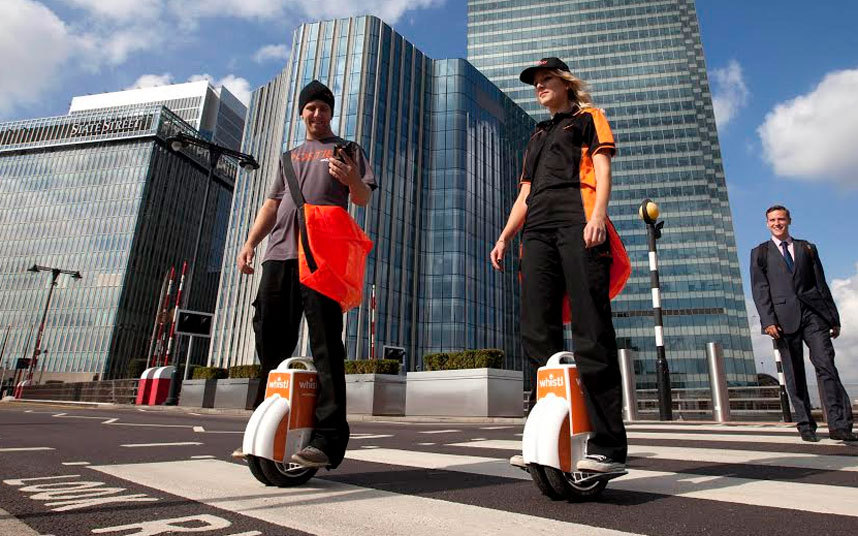 The device is legally allowed to travel on pavements and other pedestrian routes....yet do you feel they'd cause disruption?
Each device costs between £510 and £800 each....
If successful, TNT claim they will enrol the AirWheel by Whistl Posties out across the UK, with a 5-year nationwide network ambition, as they grow. TNT face a legal challenge from Royal Mail, which you can read more about in the article above.
Will the AirWheel service supersede Amazon's plans to deliver by drone?

Discussions throughout the UK have highlighted many other key points, including the need for Posties fitness....forming a variety of arguments against the experiment! Or perhaps you're in favour of having your mail delivered efficiently via new technology...?
What's you view on the experiment? Please join our discussion and leave your comments below: