​A parcel drop box can make all your Christmas shopping a lot less hassle.
The most irritating thing about shopping online is arranging a time and date of delivery, then waiting around at home for the parcel to arrive at your house. The discounts you find online will save you hundreds or thousands over the course of a year, those kinds of savings are hard to pass up. We are forced to waste our time.

PostBox Shop has the solution, our parcel box systems are much larger than any regular external letterboxes, and this allows you to receive parcel deliveries whilst you are not at home. The Parcel Box 800 and Parcel Box Deluxe even accommodates multiple deliveries at a time because of their higher volume, whilst also securing them from thieves.
The parcel delivery box system is made from galvanised steel which can be screwed to a wall or floor, or concreted into the ground with the optional base plate. This secure parcel box features a specialist anti-theft device to prevent fishing attempts and a pin cylinder lock.
View our parcel drop box range and save money on all your future shopping without the inconvenience of waiting around.
PARCELBOX CUBE 500
£169.90 In Stock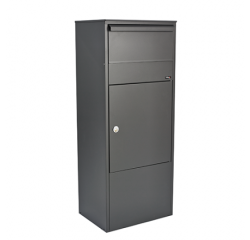 Parcel Box 800
£219.90 In Stock
PARCELBOX DROP BOX 800 REAR DOOR
£249.00 In Stock